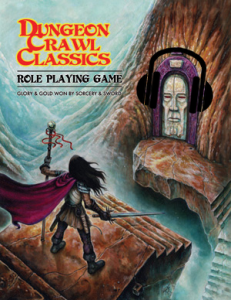 Today's post is part of an in-between DCC RPG Actual Play session postings to provide a little more insight into the cast of characters and players that make up the campaign.
Aaron plays KpNooney and Baptist in the actual play podcast. He joined the group a couple of weeks after the campaign started with a trio of funnel characters. Baptist was the survivor, though today Aaron writes about Kpnooney – the boom canon wizard!
KpNooney-Claus's (the K and P are silent) Backstory
KpNooney was a share-cropping wheat farmer struggling to make ends meet, but he had a happy life. He enjoyed his work, had many friends and was married to a young woman that he adored. One fateful night, in the midst of a nasty violent rain storm his wife ,Haxinflaxin, went into labor. KpNooney was thrilled for the birth of their first child, twins actually. But the gods had other plans. A small chunk of meteor crashed through the thatched roof of the humble shack, killing Haxinflaxin and the twins instantly and setting off a fire that burned everything KpNooney-Klaus owned to ash.
This event lead the humble wheat farmer into a vicious spiral of depression, alcohol abuse and rage, alienating him from all his friends and family. KpNooney soon left the farm to wander aimlessly, angry at the universe. A chance encounter with a group of adventurers gave focus and direction to the would-be wizard.
"Those guys saved my life" – KpNooney-Clause
He quickly became enamored with the powerful dark wizard Meffridus, whose methods and madness struck a chord with the disenchanted, morose KpNooney-Claus. The cannibal thief Baptist Inklings, seeing the vulnerability of this young recruit, led KpNooney down the dark path of Malotoch, the carrion crow-Goddess.
"At first the kid was just along for the ride, he was like a lost puppy so we let him tag along. But he learned Magic Missile and now we rely on him when we get in a tight spot." – Baptist
KpNooney found in the adventuring party a reason to live, a purpose and friendship. He is usually quiet and reserved, being a wizard of few words but real handy in a scrap. KpNooney-Clause believes that his two greatest achievements were venturing into the realm of the dead to bring back his mentor, idol and dear friend Meffridus (and that weird fella who thinks he's a pirate, what's his name….Gonlex the Hero Bard of Slither's End) and spell-duelling to death the High Priestess of Mani when the group, successfully, took control of the Mani Temple in the Great CIty
One day KpNooney hopes to be as great a wizard as Meffridus and to have enough power to sacrifice his life saving "Satan's Glee Club" from certain death..