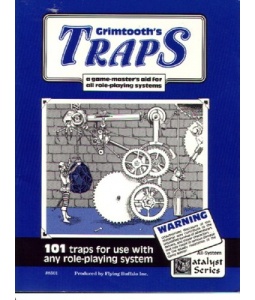 Grimtooth's used to invoke fears in players. I don't know if it does anymore. A copy of Grimtooth's Traps needed to just be seen in a pile of books the DM might be using or over on a counter with a book mark or sticking out. The very idea the DM might be using the book and the deadly contraptions inside was usually enough to keep players overly cautious and paranoid. Perhaps in the history of gaming only Tomb of Horrors can invoke such a response from the players.
Grimtooth eventually became a series of seven books. Six were generic to fit into any system. The last one they made recycles some of the classics for the d20 system. I only have the first three books and considering how little they ever got used I doubt I would buy the others if given the chance. The books are fun reads to think of the ridiculous deadly nature of the overly complex traps. Most of them though are just there to kill the PCs without giving them a fair chance to do anything about it. I understand their use and the reason they exist. Most traps are pretty lame and barely a challenge. The games made it too easy for them to detect and avoid. Even if one sets them off they rarely do anything more than a few points of damage. But Grimtooth takes it too far. They make it so the traps are near impossible to find and disable and are so complex that it is impossible to predict what setting off the trap will do. Others need to be described in a specific way to confuse the players as if they were described normally it would reveal what the trap is. Going back through the books I am surprised to see how many traps were designed by Michael Stackpole.
The biggest improvement Grimtooth's and other trap books can use is more pictures and possibly even including some player handouts. Many of the rooms, corridors, and other devices are just described with text and do not always make the most sense. These are complex devices and sometimes having multiple moving parts. A picture really can help one understand how all the pieces fit together and work to make mincemeat of most of the player characters.
Grimtooth's Traps might be the most famous and most deadly, but it is not the only collection of traps and tricks. Fantasy Flight Games produced Traps and Treachery 1 and 2 in the d20 era. These hardbound books are filled with traps and deadly mechanisms but has the benefit of improved writing and layout. They are much easier books to read and I like how they are organized. There is a wider variety within the books as they have some game mechanics and character options in them. The first book really concentrates on the Rogue and giving them options as well as traps. It has information on thieves' guilds, though Canting Crew and Den of Thieves are much better books on those guilds. Traps and Treachery also have puzzles in them that are pretty well done. I find I get more use out of the puzzles as they can be more difficult to create on one's own.
Traps and Treachery suffers from some of the same problems as Grimtooth's does. It doesn't have enough pictures, though the descriptions are better. Some of the rules are not well done but at least there is something to use as a baseline. The books are more usable because of their versatility in including other things besides just traps.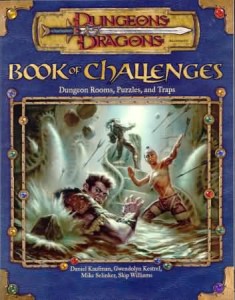 The most useful book of this type for me was put out by Wizards of the Coast in 2002. The Book of Challenges is an overlooked book that does not just present traps and puzzles but it combines them into encounters. As a DM this is the great as they are rooms or places easily inserted into a dungeon or building. It has monsters as well as traps and puzzles and many times they are combined to really take advantage of something more complex. There are also almost thirty sidebars of DMing advice that is well thought out and useful. The encounters are organized by encounter level with something for each encounter level one through twenty and with one that is encounter level 22. I'm not sure the higher end ones are really as challenging as they should be but they are still good for mid to higher level groups. Of course if one is using this with Pathfinder or 3e D&D one must take into account that sheer amount of new options that were not available when this was written. The power level of say a fifth level character has risen noticeably within the game in the past ten years.
This of course does not cover all the books on traps that have been published. Goodman Games has an interesting one called Lethal Legacies: Traps of the World Before. What is great about that book is there is background information that gives reasons for the traps presented in the books and so it also has adventure hooks and mystery. So what are your favorite books on traps and puzzles? Do you find them easy to use or a waste of paper? Does Grimtooth's Traps still hold its power to scare players?
Chris Gath.  I've been gaming since 1980 playing all kinds of games since then.  In the past year I've run Pathfinder, Dungeon Crawl Classic, Paranoia, and Mini d6.  My current campaign is mini d6 and we are using that for a modern supernatural conspiracy investigative game.  On some forums I'm known as Crothian and I've written a few hundred reviews though I took a sabbatical from reviewing for a few years as it burnt me out.  I was also an judge for the Gen Con awards (ENnies) six times.  Jeff, the owner of this blog, is one of my players and a good friend.